Skip to Content
Which Tooth Replacement Solution Fits Your Lifestyle Best in Owatonna, Burnsville, Apple Valley, Savage, MN, Eagan, Lakeville, MN, and Surrounding Areas?
Losing a tooth can have a significant impact on your confidence, oral health, and overall quality of life. Fortunately, modern dentistry offers several tooth replacement options to restore your smile.
Understanding the different solutions available can help you choose the one that best fits your lifestyle, practical needs, and budget.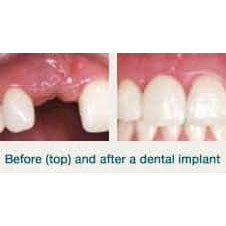 Let's explore three popular tooth replacement options so you can determine which option is the best solution for you or your loved one!
Dental Implants – Dental implants are considered the closest alternative to natural teeth. They consist of a titanium post surgically inserted into the jawbone, which acts as an artificial tooth root. Implants provide a stable and permanent foundation for a customized dental crown, resulting in a natural-looking and durable replacement. This tooth replacement option is a hassle-free and long-lasting solution.
Dentures – Dentures are removable appliances that replace missing teeth and the surrounding tissue. Dentures are cost-effective, provide immediate restoration, and are suitable for individuals who have multiple missing teeth. Keep in mind that dentures require frequent maintenance and cleaning.
Dental Bridges – Dental bridges are fixed prosthetic devices that span the gap created by missing teeth. They consist of two crowns attached to adjacent healthy teeth or implants, with a false tooth (pontic) in between. Bridges offer stability, aesthetics, and improved chewing ability–without the need for dental surgery.
When choosing a tooth replacement solution, it is essential to consider your lifestyle, oral health, and budget. Consulting with our dental professionals can help you determine the best option based on your specific needs and preferences.
At Dakota Valley Oral & Maxillofacial Surgery, we facilitate safe and professional tooth replacements for Owatonna, Burnsville, Apple Valley, Savage, MN, Eagan, Lakeville, MN, and the surrounding areas. As the premier choice for tooth replacements in our community, our team uses state-of-the-art technology to provide top-quality, personalized treatment plans tailored to your specific needs.
With a strong emphasis on patient comfort and exceptional care, our team is committed to achieving natural-looking and long-lasting tooth replacements that restore your smile–and your confidence! Contact us today for more information on tooth replacements in Owatonna, Burnsville, Apple Valley, Savage, MN, Eagan, Lakeville, MN, or the surrounding areas.